Get to know the
SUPER BEE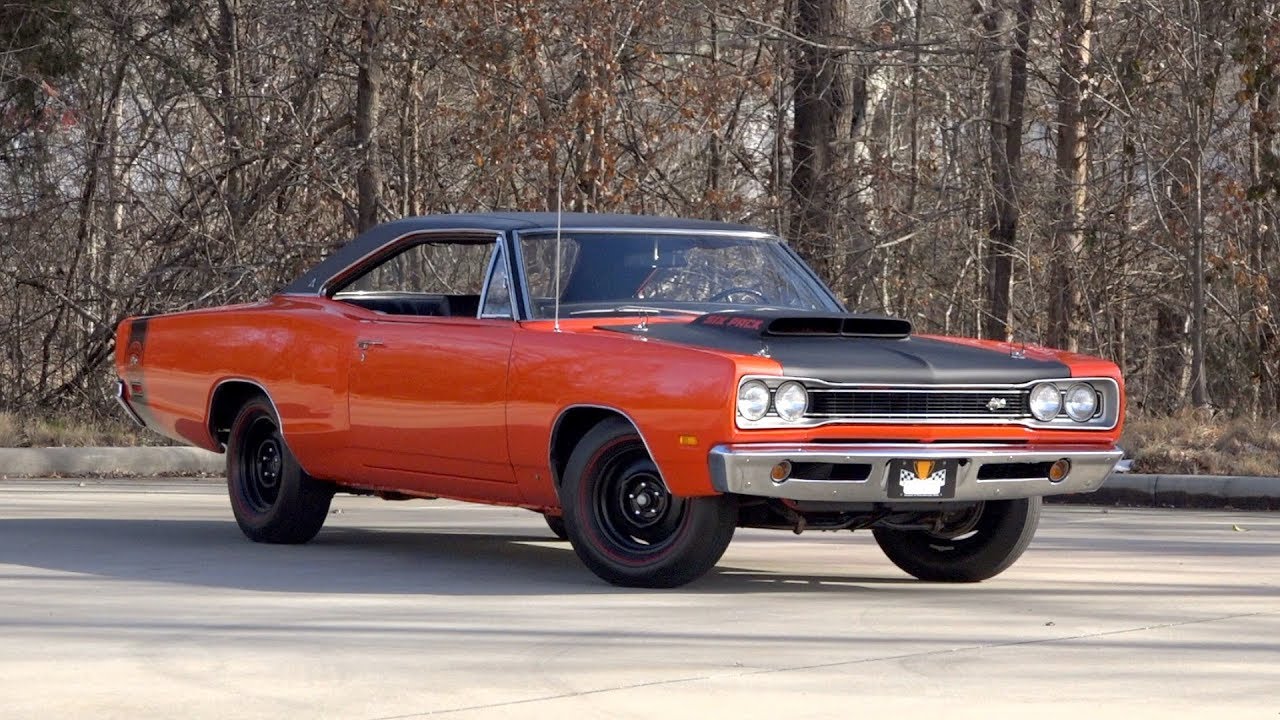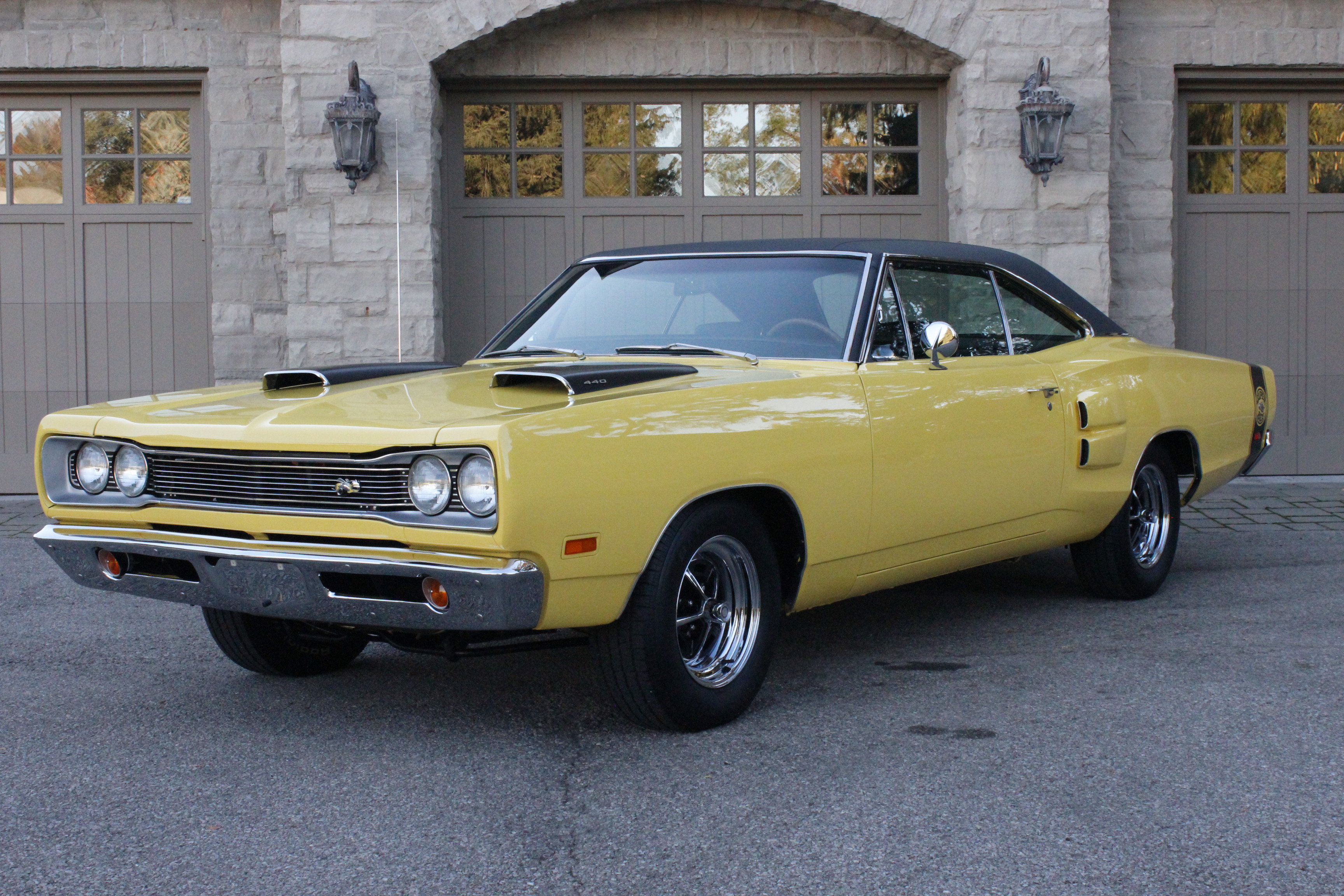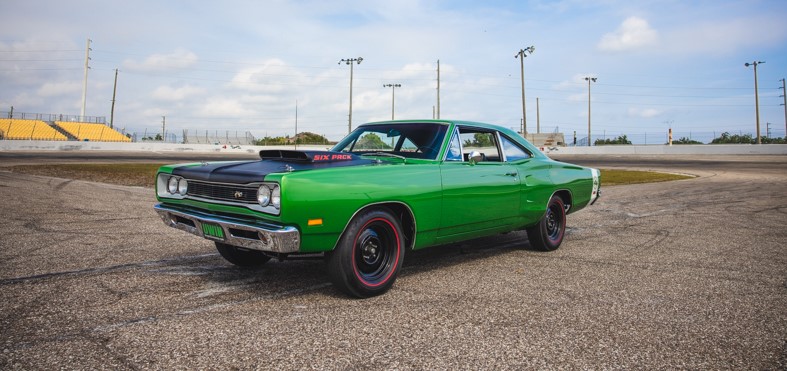 Up close and personal.
Check out this review of a 1969 1/2 Super Bee by YouTuber Matt Maran Motoring.
LEGENDARY AMERICAN MUSCLE. 3 FLAVORS.
1968
Plymouth's Road Runner sales were enough to have Dodge Division General Manager, Robert McCurry, request a similar model from the Dodge Styling office. Senior designer, Harvey J. Winn, won a "contest" with the name "Super Bee" and a new logo design based on the Dodge "Scat Pack" Bee medallion. The design of the first Super Bee was influenced by the 1968 Coronet convertible and the show car's interior was built by the Alexander Brothers. The show car was introduced at the 1968 Detroit Auto Show.
Although the two cars are similar in external appearance, the Super Bee was slightly heavier (approx. 65 lb (29 kg)) and rode on a 117-inch (3,000 mm) wheelbase compared to the Road Runner's 116 in (2,900 mm) wheelbase. In addition to minor external differences, such as larger rear wheel openings, the bumblebee tailstripe and fancier grille, and the taillight ornamentation, the Super Bee also used actual diecast chrome-plated "Bee" medallions. These three-dimensional medallions were prominently mounted in a raised position in the grille/hood area and the trunklid/taillight area of the car throughout the first three years of production.
The Super Bee included a heavy-duty suspension, an optional Mopar A833 4-speed manual transmission, and high-performance tires. Outside, a stripe (with the bee logo) was wrapped around the tail.
1969
A hardtop version joined the existing pillared coupe body in 1969 and a new optional twin-scooped air induction hood, the "Ramcharger", became available. This particular option was coded N96 and was the counterpart to the Plymouth Road Runner's "Coyote Duster" air induction hood. The "Ramcharger" hood featured forward-facing scoops.
A "six-pack" (three two-barrel Holley carburetors) version of Dodge's 440 cu in (7.2 L) engine was added to the offering list mid-year rated at 390 bhp (395 PS; 291 kW) @ 4700 rpm and 490 lb⋅ft (664 N⋅m) @ 3600 rpm of torque. The option code for this was A12, which changed the 5th digit of the VIN to M. These special order 1969 1/2 Dodge Super Bees are known as A12 M-code cars. The A12 package also equipped the cars with a Dana 60 axle with a 4:10 gear-ratio, heavy duty automatic transmission or a 4-speed manual, and a 'lift off' flat black scooped hood. Other components to the A12 package included heavy duty internal engine parts, black steel wheels with performance G70x15 tires, and heavy-duty 11-inch drum brakes. A total of 1,907 A12 M-code 440 Six Pack 1969 1/2 Dodge Super Bees were produced. This option fell half-way between the standard engine and the Hemi as a USD463 option. The 1969 model year included the base 383 Magnum, 440 Six Pack, and the 426 Hemi. The 440 Magnum (4bbl) was reserved for the Coronet R/T.
1970
For the 1970 model, the Super Bee received a redesign and a new front-end that consisted of a twin-looped front bumper that Dodge Public Relations referred to as "bumble bee wings". Sales fell for the year from 15,506 in 1970 to 5,054 in 1971-because of, or in spite of, this new look, with another sales pressure coming from higher insurance rates for performance cars; the similar Plymouth Road Runner and Plymouth Duster both experienced similar sales issues. In addition to the new looks, engine choices and "ramcharger" hood carried over from 1969, the 1970 cars from Dodge featured several new or improved options.For example, a "C- stripe" variant of the bumble stripe was offered, in addition to new high-back bucket seats, a steering column-mounted ignition and a "pistol grip" Hurst shifter on four-speed models.
So,
READY TO BUY?
Contact Dodge for more info or visit your nearest dealer.